Click here for our complete publications list and to download an order form.
Giinagay (Hello/How are you) : In Gumbaynggirr
Currently the Certificate III in Gumbaynggirr Language and Culture Maintenance is being offered on-site at Muurrbay. This is an opportunity for another generation of local people to upgrade their language skills.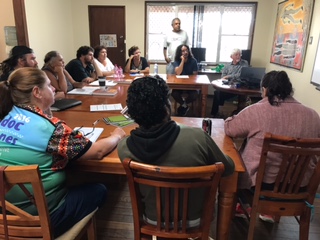 Guudji Yiigu (Hello/Welcome) : In Gathang
Muurrbay recently offered a Certificate III course in Gathang as part of our increasing focus on developing accredited Aboriginal language courses and teaching resources to empower other language communities along the central to north coasts of NSW.
The course was run from July 2015 to December 2016 in Taree. Participants travelled from all parts of the large Gathang area – from Port Macquarie in the north, Stroud to the west and Port Stephens in the south and many place in between. The Graduates were : Jaycent Davis, Sharon Edgar-Jones, Jonathan Lilley, Rose Lowe, Arlene McInherny, Marianne McKinnon-Kidd, Rhonda Radley, Natalie Stanfield, Yeena Robins.
Sharon Edgar-Jones, Rhonda Radley and Jaycent Davis now teach Gathang within their communities and most graduates have been called on to use language in varied contexts within community.
We have run workshops in 2017 for teachers of Gathang and will run further workshops for Gathang teachers and graduates in the coming year.