Membership to Muurrbay Co-operative
Membership to the Muurrbay Co-operative is open to all; in order to be an active member, a member must attend language and culture programs of the co-operative at least four times in each year. Full membership is open to people of Aboriginal descent. Associate membership is open to people of non-Aboriginal descent. Junior membership is open to Aboriginal people aged seventeen years and under. Please enquire at the Muurrbay office or via email, admin@muurrbay.org.au for an 'Application for membership' form.
Board of Directors
The Muurrbay Board of Directors consists of seven Gumbaynggirr people, including Chairperson, Treasurer and Secretary. It is the responsibility of the Directors to provide guidance to Muurrbay as a Language Centre and Registered Training Organisation, and the activity Many Rivers Aboriginal Language Centre. Directors' meetings are held quarterly.
Muurrbay Directors are as follows:
Gary Williams
Gary is Muurrbay's Chief executive Officer; he is the one staff member on the Board, which is in accordance with the NSW Co-operatives Act.
He regularly features on ABC midnorth coast radio, on Fi Poole's morning show.
---
Aunty Jessie Williams
Aunty Jessie Williams is Muurrbay's longest running and most active Board member. She is a well respected Gumbaynggirr woman in the Gumbaynggirr nation and wider communities.
Aunty Jessie has in depth knowledge of local traditions and culture, and still continues to practice and apply her knowledge to the modern lifestyles in the Nambucca Valley.
---
Blake Cusack
Blake, a Dhanggati/Bundjalung woman, is a new member of the Board. She completed the Certificate III in Gumbaynggirr at Muurrbay in 2018.
---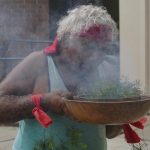 Uncle Martin Ballangarry
Uncle Martin is one of Muurrbay's directors and is also a Councillor for the Nambucca Valley Shire Council.
He has worked tirelessly on issues regarding Indigenous affairs in the Nambucca Valley for over 30 years.
Uncle Martin leads an Aboriginal dance group and family band called "Jumbaal (Carpet-Snake) Dreaming and has performed on many stages along the east coast of Australia.
---
Pauline Hooler
Pauline is a local Gumbaynggirr woman from Nambucca Heads. Pauline has worked with Muurrbay for 9 years, two in which she was an admin assistant for Many River Aboriginal Language Centre and seven as an active Board member.
Pauline is passionate about her language and assists in teaching at local schools and preschools
---
---
Cinnamon Jarrett