Muurrbay's publishing section publishes a variety of books that support the revitalisation of the Aboriginal Languages of New South Wales. These include dictionary – grammars that document the languages of New South Wales, particularly those of the central to north coast. Muurrbay also publishes educational resources such as children's stories, student workbooks and teaching tools like Mayalambala, a set of interactive posters and pictures.
Ordering resources: please click here to download the publications order form. If you don't have the latest version of Adobe PDF Reader, please click here to download from the Adobe website.
To make a payment via electronic transfer, cheque or money order, please email your order to admin@muurrbay.org.au and an invoice will be issued.
Dictionary and Grammars etc.
---
Wanarruwa Beginner's Guide

The Wanarruwa Beginner's Guide is a step-by-step guide to understanding Wanarruwa, a language of the Hunter River area – beginning with the absolute essentials and building up the knowledge of how the pieces of the language work together. This step-by-step language learning format lends itself to being used as a basis for sequenced language teaching and, indeed, it is hoped that this will be the case. This guide should form the basis of any Wanarruwa language learning.
After each section there is a review to consolidate the knowledge from that section. An appendix provides word lists of the words used in the guide and some tables of important grammatical groups.
The book has been co-written by Sharon Edgar-Jones, a Wonnarua descendant, and Albert Burgman to enable the Wonnarua community to more easily access language knowledge. They were assisted by the research of Dr Jim Wafer.
RRP $30.00
Pages: 158, Soft Cover, Images: 2, Size: 17 x 24cm, ISBN: 978-0-9808405-6-8
---
Dhanggati grammar and dictionary with Dhanggati stories
The homeland of Dhanggati people is the Macleay Valley in what is now known as the mid-north coast of New South Wales. The Dhanggati language was spoken by the oldest generation 'right through' up until the late 1960s. Today Dhanggati people are working to reclaim, learn and teach their language; this grammar and dictionary was written to support their efforts.

Amanda Lissarrague's research is based on the recordings of Dhanggati Elders, written historical records and the knowledge of Dhanggati people today.
The first edition of this book was published in 2007 and has been widely used in language learning in the valley since that time. This second edition of the Dhanggati grammar and dictionary with Dhanggati stories has the features of the first edition, including the stories, and the language information has
been expanded and refined:
it identifies the speakers, where known

it includes both plain language and descriptive linguistics to support language teaching and learning

The English to Dhanggati word list and the subject finder list help learners to find words

it includes dedicated lists of new words, and words adapted from English

There are refinements in both the grammatical description and dictionary entries,
RRP $50.00
Pages: 300, Hard Cover, Images: 32, Size: 18 x 25cm, ISBN

978-0-6486901-0-8
---
Bundjalung-Yugambeh Online Dictionary
The Bundjalung-Yugambeh Online Dictionary is available online at the following website http://bundjalung.dalang.com.au/plugin_wiki/index.html. Here you can search for words, download a paper version of the dictionary including colour-coded words in the various different dialects from Bundjalung to Yugambeh.
---
Yaygirr Dictionary and Grammar
For many years the Yaegl Elders have dreamt of showing respect to the country of the Lower Clarence by restoring the language that this land speaks. This grammar and dictionary has been developed with extensive community consultation to support them as they revive their language and culture and pass these on to their children.
Steve Morelli is community teacher–linguist with Muurrbay . His research is based on the language of Uncle Sandy Cameron, one of the last Yaygirr speakers, many historical records and the knowledge of other Yaegl people. It includes: a dictionary of almost 1000 words, a description of the way the language works, information on family words and maps depicting the Yaegl word.
RRP $50.00,
Pages: 254, Hard Cover, Images-maps: 3, Size: 18 x 25cm
ISBN: 978-0-9808405-0-6
---
Gumbaynggirr Bijaarr Jandaygam, Ngaawa Gugaarrigam
Gumbaynggirr Dictionary and Learner's Grammar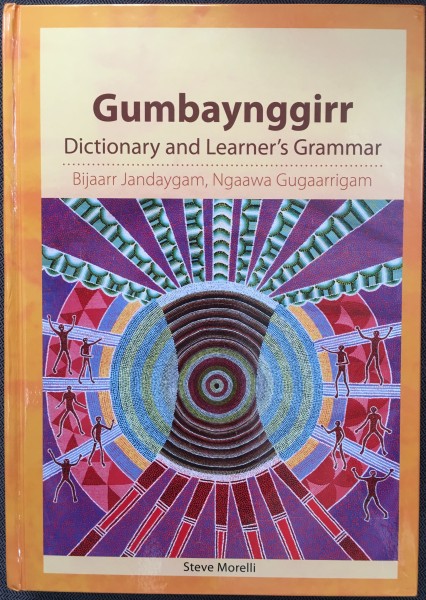 The homelands of the Gumbaynggirr lie between the Clarence and the Nambucca rivers in northern New South Wales. The Baanbay people to the West speak the same language. As with many Aboriginal Australian languages, Gumbaynggirr had fewer speakers and was in danger of extinction. All that changed in 1986 when a small group of Elders took steps to revive it, and this book is a tribute to their efforts.
Brother Steve Morelli's research is based on the recordings of Gumbaynggirr Elders, written sources and the knowledge of Gumbaynggirr people today. This book includes more than 2700 word entries, easy-to-read grammar section, a semantic fields section which groups words such as birds, emotions, insects or artefacts. A new words section lets people use Gumbaynggirr in a modern context, a section on traditional families as well as two new maps depicting the Gumbaynggirr world and several pictures to complement the word entries.
This second edition of the Gumbaynggirr dictionary and learners grammar has been expanded and improved to meet the needs of the language community
There are now 3,000 entries, with expanded definitions.

New sections describe the three Gumbaynggirr dialects, and special kinship ways of talking: respect, politeness and avoidance, based on extensive linguistic research of the Gumbaynggirr dreaming story collection

The New words section has been expanded to include many Gumbaynggirr words develop over the last decade of language revitalisation

A new Education words section lists many new words relevant to the place where Gumbaynggirr is now taught.

A new index allows the reader to more easily locate grammatical information

The grammar has been redefined and updated.
RRP $70.00.
Pages: 457, Hard Cover, Images: 35, Size: 18 x 25cm, ISBN: 978-0-9808405-9-9
---
Darkinyung grammar and dictionary revitalising a language from historical sources
'This resource will be used as a tool to help us teach our people, children and future generations the importance of language and that it is key to discover our culture, identity and heritage'.
Bronwyn Chambers, Chairperson, Darkinyung Language Group
Darkinyung is an Aboriginal language of New South Wales which is now again being taught and learned. Caroline Jones (Senior Lecturer, Faculty of Education, University of Wollongong) has worked alongside the Darkinyung Language Group to develop a concise and authentic record of what is known of Darkinyung language today, based on research into historical sources mainly from the nineteenth century. This first modern documentation of Darkinyung language includes:
an explanation of the speech sounds and a suggested writing system

how the grammar works, in accessible terms with examples




a database of source words, including R. H. Mathews' notebook material

several dictionary list formats suited for different learners' needs.
RRP $40.00, 182 pages, Soft Cover, Images: 5, Size: 17.5 x 24cm, ISBN: 978-0-9775351-9-4
---

A grammar and dictionary of Gathang: The language of the Birrbay, Guringay and Warrimay
The Gathang people of NSW mid-north coast are reviving their language and culture and passing it on to their children. Gathang (or Kattang) is a general name for the language also known as Birrbay (Biripi), Guringay (Gringai) and Warrimay (Worimi), technically these are dialects of the same language. This grammar and dicitonary has been developed with extensive community consultation to provide a strong foundation for future language revival.
Amanda Lissarrague's research is based on Nils Holmer's recordings of Uncl