Uncle Gary Williams

Gary is Elder in residence at Muurrbay and a Director on the Board.
He has recently been researching the Gumbaynggirr Collected Stories, supports the Gumbaynggirr language courses, and travels throughout the region advising on regional language projects, particularly Bundjalung. Recently he worked on the translations that were used in the ABC Cleverman series.
---
Brother Steve Morelli (Gugs)
Gugs has been working with Muurrbay since the early days in Sherwood. He teaches on the Gumbaynggirr courses and Zoom online classes. He also produces teaching resources, compiled the Dictionary Grammar (for Gumbaynggirr and Yaygirr) and worked with Gary WIlliams and Dallas Walker on the Gumbaynggirr Dreaming stories.
---
Michael (Micklo) Jarrett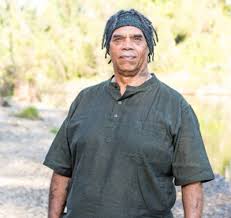 Micklo volunteers as a Gumbaynggirr Langugae Teacher in all Muurrbay courses and became CEO in 2019.
He is head teacher with the Gumbaynggirr Language nest and can be reached at michael.jarrett@det.nsw.edu.au
---
Julie Long
Julie is Regional Coordinator Linguist, her work over the years at Muurrbay has mainly been in language education and IT support. She has developed course materials for both the Gathang Certificate I course and the Gathang Certificate III Learning an Endangered Language and delivered the Certificate III in 2017 and 2020. She also supports the Certificate III in Gumbaynggirr Language and Culture Maintenance in the area of compliance for Registered Training Organisations. Julie also supports the publishing wing by desk-top publishing and editing. In the past I have worked alongside Michael Jarrett at St. Mary's Bowraville on a K-6 program and wrote the Barriyala; Let's Work student workbooks for the Gumbaynggirr language. I have a BA in Linguistics and Certificate IV in TAE and previously taught foreign languages in primary schools.
---
Ruth Link
Ruth is a project officer and administration support for all aspects of Muurrbay including RTO and Compliance.
She can be contacted at admin@muurrbay.org.au
---
Sharon Edgar-Jones
Sharon was engaged by Muurrbay to support the Southern Languages in 2018, she identifies as Wonnaruah and Gathang. Sharon has several Certificates in Aboriginal Languages including Wonnaruah and Gathang (Muurrbay), and a Diploma Indigenous Language work from Charles Darwin University. She has been working with Elders to teach Wannaruwa in a community group and is conducting research on the Language. In 2019 Sharon completed A Beginner's Guide to Wannaruwa, with Albert Burgman, published by Muurrbay. Sharon can be reached at sharon.edgarjones@muurrbay.org.au .
---
Albert Burgman
Muurrbay has engaged Albert as a consultant linguist to support the Southern Languages One of my main roles is supporting work on Wannaruwa and Darkinyung. The other major role is to provide training in transcribing audio so that Aboriginal language learners can more easily access language recordings. My heritage is Dutch and Irish, and I was born and raised in Wagga Wagga, NSW; I have been based on the Central coast for eleven years.
I have over thirty years of experience working with Aboriginal people on their languages, and a great deal of this time in the field of education. I am a qualified linguist and primary school teacher. I have taught in primary schools, juvenile justice, TAFE and university. For the last fifteen years I worked as a linguist for Wangka Maya Pilbara Aboriginal Language Centre in South Hedland, WA. Much of that work focused on developing language databases, dictionaries in hard copy and computer based formats, and sketch grammars.
---