Uncle Gary Williams

Gary is CEO at Muurrbay and is a Director on the Board.
He has recently been researching the Gumbaynggirr Collected Stories, supports the Gumbaynggirr language courses, and travels throughout the region advising on regional language projects, particularly Bundjalung. Recently he worked on the translations that were used in the ABC Cleverman series.
---
Dallas Walker

Giinagay nganyundi bijaarr ganyjarr ganyjarr. Hello my name willy wagtail.
Hello my name is Dallas Walker and I've been learning Gumbaynggirr for about 15 years.
Now I am the Senior Language Worker at Muurrbay, as well as a consultant, and I enjoy teaching who ever wants to learn their own language. I am involved with supporting the Certificate III in Gumbaynggirr which is being taught at Muurrbay at present.
---
Brother Steve Morelli
Hi! I'm Brother Steve (Gugs) and I've been working with Muurrbay since the early days in Sherwood. I teach one day a week at Muurrbay. I also produce teaching resources and am working with Muurrbay on language development and publishing the Gumbaynggirr Dreaming stories. I have resumed researching Yaygirr language, and workshopping with language teachers. Currently I am the head teacher for the Certificate III Gumbaynggirr course that we are teaching at Muurrbay.
---
Julie Long
Hi, My name is Julie Long. My work over the years at Muurrbay has mainly been in language education and IT support. I have developed course materials for both the Gathang Certificate I course and the Gathang Certificate III Learning an Endangered Language and delivered the Certificate III which completed in 2016. I now support the Certificate III in Gumbaynggirr Language and Culture Maintenance in the area of compliance for Registered Training Organisations. I also support publishing wing by desk-top publishing and editing. In the past I have worked alongside Michael Jarrett at St. Mary's Bowraville on a K-6 program and wrote the Barriyala; Let's Work student workbooks for the Gumbaynggirr language. I have a BA in Linguistics and Certificate IV in TAE and previously taught foreign languages in primary schools.
---
Marcia Hillery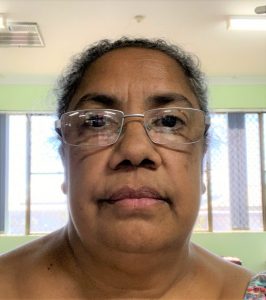 Hello everyone, I am Marcia and the Business Manager for Muurrbay. My family has had a long association with the language centre and I am very pleased to be able to contribute with my skills and experience. I am looking forward to digging in to the work and sharing a brighter future with Muurrbay.
---
Virginia Jarrett
Giinagay ngujawiny! Nganyundi bijaarr Virginia. Hello everyone! My name is Virginia and I have been involved in Gumbaynggirr Language since the first class commenced in 1997 at Muurrbay and I have been involved with language ever since.
I have taught Gumbaynggirr language in schools in the local surrounding areas through the years and now take part in the Cert III as a support teacher and currently I'm Administration Officer for Muurrbay Language Centre.
---
Albert Burgman
Hi,
Muurrbay has recently engaged me as a consultant linguist. One of my main roles is liaising with the community to develop a Darkinyung language revitalisation plan. The other major role is to provide training in transcribing audio so that Aboriginal language learners can more easily access language recordings. My heritage is Dutch and Irish, and I was born and raised in Wagga Wagga, NSW; I have been based on the Central coast for eleven years.
I have over thirty years of experience working with Aboriginal people on their languages, and a great deal of this time in the field of education. I am a qualified linguist and primary school teacher. I have taught in primary schools, juvenile justice, TAFE and university. For the last fifteen years I worked as a linguist for Wangka Maya Pilbara Aboriginal Language Centre in South Hedland, WA. Much of that work focused on developing language databases, dictionaries in hard copy and computer based formats, and sketch grammars.