Staff and consultants
Muurrbay staff are sometimes based in the office, but due to the extensive region we cover, they are often based on country. Currently we have staff based on Wonnarua country, in the past they have also been located on various countries, in order to work with those Languages: Bundjalung, Dhanggati, Birrbay/Warrimay (Gathang) and Yaygirr communities. Also since 2020 our staff may be working from home and video conferencing in order to keep supporting community-based language work and classes.
Gary Williams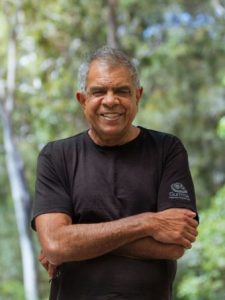 CEO Gary Williams has travelled throughout the region advising on regional language projects, particularly Bundjalung. He now supports the Gumbaynggirr language courses and recently he translated the dialogue of the Cleverman series into Gumbaynggirr.
Gary was a key member of the team whose in-depth research led to the publishing of the Gumbaynggirr Dictionary-Grammar and the Collected Stories. Gary has also worked closely with researcher Ian Sim to bring back his valuable records of Gumbaynggirr Elders.
When Muurrbay expanded into a Regional Language Centre in 2004, Gary stepped up to become a regional language researcher, supporting the revival of seven languages, including Bundjalung, his father's language. Gary's language and cultural knowledge and his deep understanding of linguistics saw him become a crucial element in Muurrbay's support of NSW coastal languages. Gary can be reached at CEO@muurrbay.org.au
---
Brother Steve Morelli (Gugs)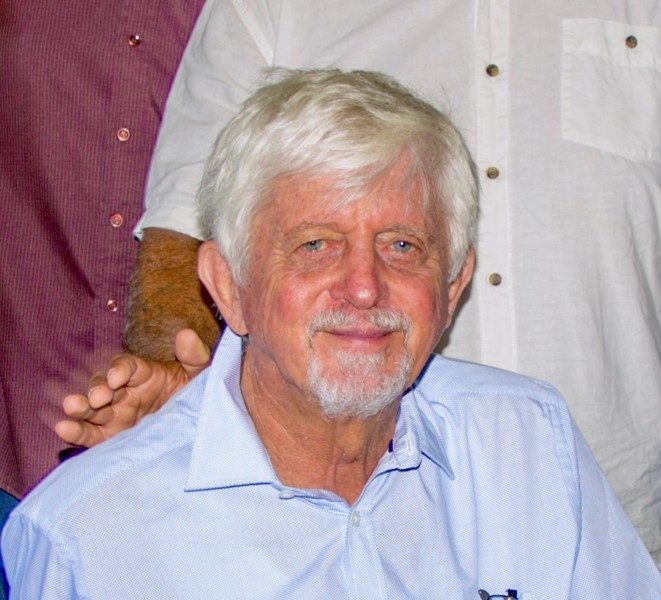 Brother Steve (Gugs) worked with a group of Elders including Aunty Maggie Morris to form the Gumbaynggirr Language and Culture Group in 1986 in Sherwood; this group grew into Muurrbay. Gugs' voluntary work has included compiling the Gumbaynggirr and Yaygirr dictionary-grammars and working with Gary Williams and Dallas Walker on the Collected Stories. He has developed and taught many Gumbaynggirr Language courses over the years and is now on the teaching team for the Cert III in Gumbaynggirr language. He produces teaching resources and works with Muurrbay on developing new words and expressions in Gumbaynggirr.
Gugs has a Bachelor of Arts in Languages and Graduate Diplomas in Linguistics and Counselling. In 1996 his valuable work was recognised with the Aboriginal Education Award of Excellence from the Department of School Education, Aboriginal Education Unit.In 2019 Gugs was awarded the Patji-Dawes Language Teaching Award from the ARC Centre for the Dynamics of Language for outstanding achievements as a teacher and linguist collaborating with Indigenous communities on the New South Wales mid-north coast for over 30 years, working to revive and teach the Gumbaynggirr language.
"He has really understood from the start that our language and culture are completely intertwined. Developing the language to accommodate the needs of contemporary speakers was only possible because Brother Steve has always worked with us as part of a team, together adapting the language in ways that made sense culturally."

Gary Williams, in nominating Brother Steve for the Teaching Award
In 2021 Gugs was awarded an Order of Australia Medal for services to the Indigenous Community of Mid-North-Coast NSW. Gugs said he felt greatly honoured to receive the award, but the honour was one he shared with the local Aboriginal Elders and Community, who had shown great pride and ownership over their heritage. Gugs can be reached via admin@muurrbay.org.au
---
Michael (Micklo) Jarrett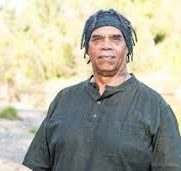 Micklo is Chairperson on the Muurrbay Board and whilst no longer working in the Muurrbay office, he teaches Gumbaynggirr Language in the community and in many of the Muurrbay courses, including the current online class via Zoom. He is a qualified Early Childhood teacher, completed the Cert II and IV in Gumbaynggirr and completed a Masters in Indigenous Languages Education.
When Muurrbay expanded to become a regional language centre, Micklo, along with Gary Williams, was a researcher supporting the regional languages, sharing his passion for Aboriginal language and culture revitalisation and his ability to make language learning fun and engaging. He has taught Gumbaynggirr in pre-schools, schools and at Muurrbay and TAFEs. Since 2014 Micklo has been Head Aboriginal Language and Culture Trainer for the Gumbaynggirr Language Nest, managed by the NSW Department of Education and is currently Senior Education Officer for Aboriginal Languages. He can be reached at michael.jarrett@det.nsw.edu.au
---
Julie Long
Julie is Linguist-Regional Coordinator, responsible for overseeing the seven coastal Aboriginal languages Muurrbay supports. Julie's focus has been on providing Linguistic advice for Communities as well as developing and teaching Language Courses and IT support.
Julie developed course materials for the Gathang Cert I Course and the Gathang Cert III Learning an Endangered Language Course and delivered the Certificate III twice, in Taree and Port Macquarie/Karuah and online due to Covid. Julie has also supported the Cert III in Gumbaynggirr Language and Culture Maintenance, teaching the Education units and ASQA compliance for Registered Training Organisations. Previous roles include desktop publishing and editing for the Gumbaynggirr, Darkinyung and Yaygirr dictionary-grammars.
In the past Julie worked alongside Michael Jarrett at St. Mary's Bowraville on a K-6 program and wrote the Barriyala – Let's Work student workbooks for the Gumbaynggirr language. She has a BA in Linguistics and Certificate IV in TAE and previously taught foreign languages in primary schools. She can be reached at julie.long@muurrbay.org.au
---
Ruth Link
Ruth identifies as a Gooreng Gooreng woman, having grown up in inner Brisbane City. She started at Muurrbay as Project Officer in October 2020 but has been associated with the organisation since 2016 in Administration.
The Project Officer role is to provide leadership in the area of community engagement and be an ambassador for Muurrbay. This includes project management and overseeing the cultural upkeep and development of other administrative employees.
Ruth's recent qualifications are Cert IV in Governance (Business), Cert IV in Project Management Practice and a Dip. of Leadership & Management. Her passion is the well-being of Aboriginal and Torres Strait Island people and she sees working for Muurrbay in the revitalisation of language as essential to all.  She aspires to use her IECL Coaching Level 1 to help her counterparts reach their fullest potential. Ruth can be reached at admin@muurrbay.org.au
---
Sharon Edgar-Jones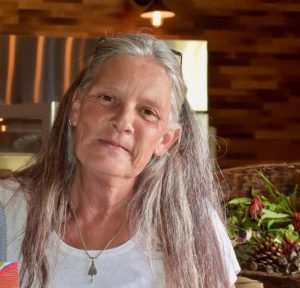 Sharon was engaged by Muurrbay as a Language Consultant to support the Southern Languages in 2018, she identifies as Wonnaruah and Guringay. She was inspired by her Elders, and her mother in particular to revive her Language. In 2019 she completed the Wanarruwa Beginner's Guide, with Albert Burgman and in 2021 is working on HRLM dictionary. She has been working with Elders to teach Wannaruwa in a community group and is conducting research on the Language.
Following a Cert I and II in Aboriginal languages, Sharon has attended professional development language workshops with Muurrbay and RNLD, now Living Languages. She has completed a Diploma in Indigenous Language work at Charles Darwin University. Sharon can be reached at sharon.edgarjones@muurrbay.org.au .
---
Bron Peddington-Webb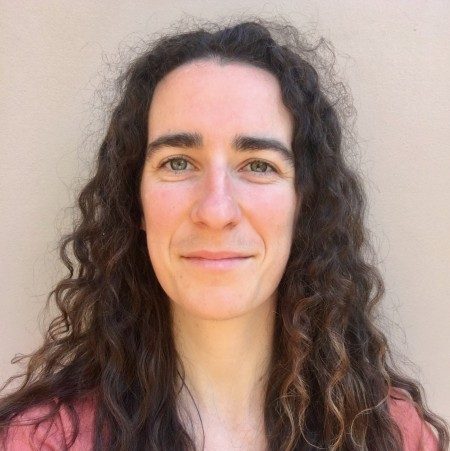 Bron began as Linguist at Muurrbay in February 2020, after graduating from a double degree of Arts (Linguistics) and Visual Arts at university.
Throughout 2020, she worked with the Regional Coordinator delivering the Certificate III Learning an Endangered Language – Gathang. Bron continues to work on the various regional language projects that Muurrbay supports, and particularly enjoys the two-way learning that comes from working with community members who are revitalising their languages.
Bron has been involved in various language revitalisation projects prior to her work with Muurrbay, including volunteering with Living Languages in Melbourne.
Bron is passionate about language, wellbeing, and the environment. When she is not at work, she can often be found making art and enjoying nature on beautiful Gumbaynggirr country. Bron can be reached at linguist@muurrbay.org.au
---
Albert Burgman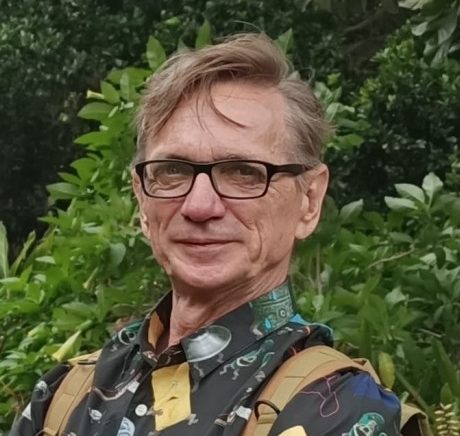 Albert is consultant linguist with Muurrbay. His most recent work has been to support Wanarruwa language projects. In 2020 he co-authored the Wanarruwa Beginner's Guide with Wonnarua linguist, Sharon Edgar-Jones. In 2021 he co-produced with Sharon Edgar-Jones and James Wafer the computer based Hunter River, Lake Macquarie and Central Coast Lexique Pro Dictionary to support the Wanarruwa language revival.
His heritage is Dutch and Irish. Born and raised in Wagga Wagga, NSW, he is a long term resident of the Central coast. Albert has nearly 40 years of experience working with Aboriginal people on their languages, mainly with language centres and in educational contexts. A qualified linguist and primary school teacher, he has taught in primary schools, juvenile justice, TAFE and university. For many years he has also been consultant linguist for Wangka Maya Pilbara Aboriginal Language Centre in South Hedland, WA, developing language databases, dictionaries in hard copy and computer based formats, and sketch grammars for languages of the Pilbara region.