Providing strategic support for coastal language communities from the far north to central coast of NSW is our goal. This includes the following languages: Awabakal – Wonnarua, Bundjalung, Darkinyung, Dhanggati, Gathang (Birrbay, Warrimay & Guringay), and Yaygirr – Yaegl.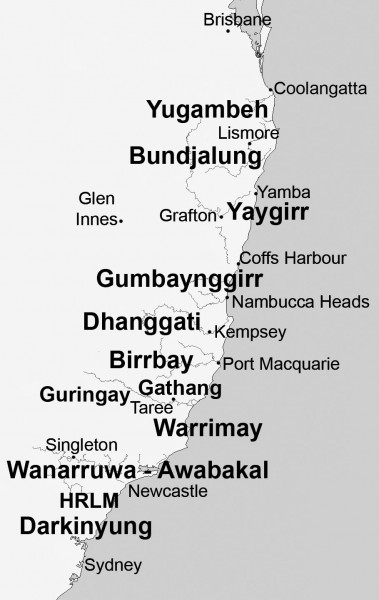 On-country language work works!
Our linguists and language researchers are based on-country and are backed-up by Muurrbay experts (in language, linguistics, publishing and managing projects). Recent big wins include:
Researching and publishing the Wannaruwa Learner's Guide by Wanarruwa linguist Sharon Edgar-Jones
Auspicing a project employing Dhanggati researcher Caroline Bradshaw and artists to produce learning resources such as story books
Auspicing a project employing Gathang teacher Gulwanyang Moran to deliver online Language courses.
Recording Bundjalung Elders, developing language learning materials and workshops and supporting Bundjalung materials to go online.
Certificate courses count
Muurrbay continues to deliver qualifications that prepare the Aboriginal language teachers of the future:
Twenty six Gathang people have graduated with the Certificate III in Learning an Endangered Aboriginal Language for Gathang
Sixteen Gumbaynggirr people graduated with the Cert III in Gumbaynggirr Language and Culture Maintenance
We value Goori Languages
Muurrbay will continue to promote the value of Aboriginal languages, particularly through the work of our CEO, Uncle Gary Williams, who supports many language and cultural organisations throughout the region. Muurrbay staff contribute by:
Extending language use into new domains: film, song, radio, plays, festivals and in education and government departments
Presenting at various conferences and festivals, both locally and interstate.
Hosting Living Languages' training workshops for young Language Champions from around NSW.
The long haul
These successes are only possible because of the long-term commitment to supporting Languages, including:
Many community-based language workshops and classes being held on country and online
Publishing of Dictionary-grammars for all Languages
Working with community members and their goals: telling stories in Language: Story books, comics and animations, in film and online.