Muurrbay is a regional language centre providing strategic support for Aboriginal communities of the northern and central coasts of NSW who want to revitalise their languages. We support the following languages: Awabakal – Wonnarua, Bundjalung, Darkinyung, Dhanggati, Gathang (Birrbay, Warrimay & Guringay), and Yaygirr – Yaegl.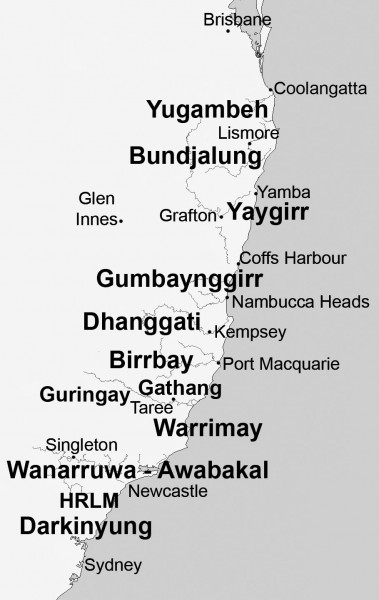 Like other regional language centres, Muurrbay conducts research on several Aboriginal languages and supports communities in their efforts to learn and teach their languages. Regional Aboriginal Language Centres have until recently only existed in more remote areas of Australia, for example Katherine Regional Aboriginal Language Centre, and Wangka Maya in Port Hedland. There have been language programs elsewhere including NSW but they have tended to work with one local language, or closely related dialects, for example the Yuwaalaraay Language Program based in Walgett supports Wiradjuri language. Muurrbay employs a regional coordinator – linguist, linguists, languagae teachers and consultant linguists and language researchers who are based on country and regularly travel to Muurrbay for workshops and meetings.
Muurrbay supports Aboriginal language revitalisation, that is research and development for the seven language groups, through activities that include:
Providing access to linguistic expertise, and training for Aboriginal people.
Recording languages wherever possible, and assisting with access to archival materials, providing a regional storage base for these materials.
Producing language materials such as dictionaries, grammars, learner's guides, transcriptions, translations and language teaching resources.
Providing community access to languages by using information technology such as: ELAN, Toolbox, Powerpoint and Adobe Audition.
Employing linguists, Aboriginal language researchers and specialists in Information and Communication Technology.
Raising awareness in the wider community about the value of Aboriginal languages.
Recent achievements include:
publishing the Yaygirr dictionary and grammar and advising their adult class
delivering the Certificate III in Learning and Endangered Aboriginal Language for Gathang
recording Bundjalung Elders and working with them to develop language learning materials and workshops
extending language use into new domains: song, radio, plays, festivals and education and government departments, and supporting Bundjalung materials to go online
distributing learning resources with CDs, particularly the animated Gathang stories
promoting the value of Aboriginal language both on and offline, particularly via the work of our CEO who supports many Language and cultural organisations and presents at various conferences and festivals, both locally and interstate.