People
Gathang is the language of the people known as the Birrbay, Warrimay and Guringay. Years ago, Gathang speakers would have been multilingual, also speaking the languages of their neighbours. There are significant social relationships amongst Birrbay, Anaiwan (Nganyawana), Dhanggati and Gumbaynggirr peoples, including a shared set of marriage sections. The Guringay marriage sections are shared with the Wanarruwa, who spoke the language from the Hunter River and Lake Macquarie (HRLM), Darkinyung and Gamilaraay peoples.
Traditional country
Whilst it is impossible to put precise boundaries on language groups, we can speak generally. Gathang was spoken between the Wilson River (north of Port Macquarie, including the hinterland, as far as the Falls Country) and Port Stephens in the south, and as far west as Maitland, Paterson and Gloucester. Their neighbours are Dhanggati in the north, the language from the Hunter River and Lake Macquarie (HRLM) south of Port Stephens, which is also known by the names Awabakal, Kuringgay, Wonnaruwa, and possibly Kayawaykal.
Language Details
Gathang language is classified as a Pama-Nyungan language. Recent studies indicate a close grammatical relationship with HRLM. There are many cognates (words which occur in both languages) as well as many structural similarities between the two languages. There are also a significant number of cognates in Gathang with Gumbaynggirr. There are many definitions in the Gathang vocabulary which have two words, where one word has a cognate from the south (HRLM) and the other has a cognate in the north, either Gumbaynggirr or Dhanggati.
Today, many Birrbay, Warrimay and Guringay people are involved in revitalising Gathang language, by learning language and using it in such areas as speeches, artwork, and radio broadcasting, and in naming people, organisations and buildings.
Alternative spellings include: Bahree, Cottong, Gadang, Gadhang, Guttahn, Karrapath, Carapath, Katanga, Kathang, Kattang, Katthung, Kittang, Kutthack, Kutthung, Watthung, Molo, Port Stephens tribe, Warimi, Warramie, Warrimee, Watthungk, Wattung, Worimi, Warrangine, Wannungine, Buraigal, Gamipingal, Maiangal, Garuagal, Gooreeggai, Goreenggai, Gourenggai, Gingai, Gooreenggai, Gringai, Birripai, Bripi, Biripai etc.
Language Outline
Gathang is characterised by having:
Three vowels: i, a and u, each of which can also be pronounced as a longer vowel ii, aa and uu. It is not known if vowel length is contrastive. There are  13 consonants. The writing system developed for Gathang uses the voiced series for stops, and includes both pronunciations of the laminal stop (dh ~dj) and nasal (nh ~ny): b, d, dh ~dj, g, m, n, nh ~ny (~yn), ng, r, rr, l, w, y.
Variant forms for words ending in a nasal have alternate pronunciations which end in a stop eg. Marrung ~marruk good, bakan ~bakat stone or rock.
A system of noun suffixing (tag endings) to mark the grammatical roles of subject, object and agent, and other suffixes indicate instrument, location, movement towards, movement from, cause etc.
Verbs have three tenses, past, present-habitual and future. Other suffixes convey different meanings, including 'in order to' do something, 'want' and 'must' do something, and 'be' something.
Free word order, although there is a tendency towards agent – object – verb in a transitive sentence, unless there is focus on a non-agent participant.
Language Resources and Recordings
The historical record for Gathang language is, unfortunately, not particularly large in quantity or high in quality. Conversely, there are many place names in Gathang country in use in modern times, more than is usually found in NSW.
Several people recorded the language in the 1900s, with varying degrees of accuracy. In 1887 Curr published the earliest word list, compiled by John Branch. Enright wrote a description of the language and wordlist published in 1900. In 1929, the American linguist Gerhardt Laves worked with Charlie Briggs, Bill Dungie, Charlie Bugg, Jim Moy, Albert Lobban, Hannah Bugg, Susna Russell, Ted Lobban, Mrs Russell, Laves' work is in the form of unpublished field notes. In 1961 an unknown compiler worked with Jim Davies. The linguist Nils Holmer made audio recordings in the 1960s with Eddie Lobban and Fred Bugg. From this he compiled a grammar, a wordlist and also published traditional and non traditional stories.
Following consultation with Gathang community groups and individuals, Muurrbay-MRALC linguist Amanda Lissarrague analysed the data from these and other sources,  and we  published  A grammar and dictionary of Gathang: the language of the Birrbay, Guringay and Warrimay  in 2010.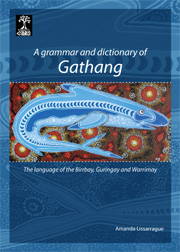 This provides a collection of all that is known about Gathang language at this point, a standardised writing system and will serve as a reference for the production of teaching and learning materials.
The main published texts are:
Branch, J 1887 "No 186: Port Macquarie" in EM Curr (ed.), The Australian Race. Melbourne: John Ferres, Government printer, 3:338-350.
Elkin, AP 1932 "Notes on the Social Organisation of the Worimi, A Kattang-Speaking People". In Oceania, 2(3), 359-63.
Enright, WJ 1900 "The language, weapons and manufactures of the Aborigines of Port Stephens, NSW". In Journal of the Royal Society of NSW, 34:103-18.
Enright, W J.1933. "Social Divisions of the Birripai". In Mankind 1(5):102.
Holmer, N 1966, An attempt towards a comparative grammar of two Australian languages, Australian Institute of Aboriginal Studies, Canberra.
Holmer, N. 1967. An attempt towards a comparative grammar of two Australian languages, Part 2 Indices and vocabularies of Kattang and Thangatti, Australian Institute of Aboriginal Studies, Canberra.
Holmer, NM & Holmer, V, 1969, Stories from two native tribes of eastern Australia, Carl Bloms Boktryckeri, Lund.
Gathang welcome to/acknowledgement of country
Gathang Welcome to Country

Gathang Welcome to Country
Gathang welcome to country spoken by Jeremy Saunders
Gathang welcome to country spoken by Jeremy Saunders
"Gathang Welcome to Country"
Minyang nyura wubaliyn?
Nyura yiigu marala barraygu.
(Yii barraba barray.)
Yii Gathangguba barray.
Gathay nyiirun.
Welcome. What are you doing? You have come here. (This is my country.) This is Gathang country. Let us go together.
( You can leave out line three to do an acknowledgement of country.)
Below is a breakdown in more detail showing how the words are formed according to the rules of Gathang grammar.
Minyang nyura wuba-li-yn?
what       you.all do-ing-PRES
What are you doing? (A common way of greeting is to ask a question.)
Nyura      yii-gu      mara-la      barray-gu.
you.all here-to come-have country-to.
You have come here, to this country.
(Yii barraba barray.)
this my       country
This is my country.
Yii Gathang-guba barray.
this Gathang-'s country
This is Gathang country.
Gathay nyiirun.
go-will we.all
Let us go together.
Worth Place Park – Honeysuckle Newcastle 2009
In 2007 Lillian Eastwood from the Guraki Aboriginal Advisory Committee of City of Newcastle Council consulted Muurrbay linguist Amanda Lissarrague outlining the possibility of incorporating local languages from Warrimay (Gathang) and the language from the Hunter River – Lake Macquarie for a public artwork commissioned by the Honeysuckle Development Corporation, Newcastle.
This sculpture designed by Zenscapes Landscape Architects Milne and Stonehouse, reflects layers of Aboriginal and English languages, and historically aspects of geology, maritime, and mining that continues to be evident in and around the mouth of the Hunter River.
"The languages and the representation of the midden in the artwork, convey the message that Aboriginal people occupied that space from long ago and had a great diverse life on the river. I personally believe if we can add and build the layer of Aboriginal language and history into the fabric of the Newcastle landscape then we build hopefully a safer, more tolerant and inclusive Novocastrian community" (Lillian Eastwood).