Gumbaynggirr Elders and youth joined together to launch Gumbaynggirr dictionary-grammar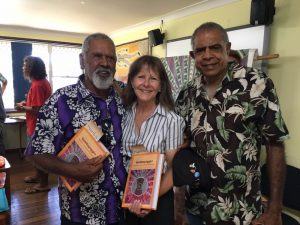 The new and improved second edition of the Gumbaynggirr dictionary-grammar was launched by Elder Barry Phyball at Muurrbay on the 18th of March 2016. Ricky Buchanan gave a welcome to country, as he'd done eight years ago for the first edition. From being a young school boy at the first book launch, Ricky is now working in schools, and studying Gumbaynggirr language at TAFE.
Several speakers including Mayor Rhonda Hoban talked about the impact of the dictionary on many aspects of life in the Valley. Uncle Barry Phyball who has a long association with Muurrbay, proudly launched the book to great applause from the audience.
Brother Steve Morelli (Gugs),who has been with Muurrbay since its beginning, spoke of the long journey of writing the dictionary, the strong collaboration with Gary Williams and Dallas Walker, and the amazing desk top publishing skills of Muurrbay linguist, Julie Long.
Gugs also mentioned that this book is in a way, just the beginning, it is now up to Gumbaynggirr people to learn more and more of their language, and to share it with children and adults, to continue to bring the language back to life. See our publication page for more details.