Bundjalung-Yugameh Dictionary launched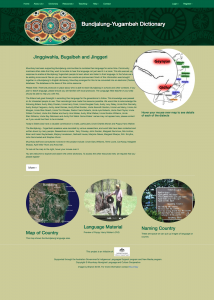 The online Bundjalung-Yugambeh dictionary has been under development for several years. Based on many years research with Elders, from the Clarence River in NSW to Beenleigh and Beaudesert in QLD, it has been compiled by linguist Margaret Sharpe. Developed as an online resource by IT specialist Cat Kutay, you can now search the dictionary online or view and download the pdf version. The site had the capacity to allow registered users to upload teaching resources for their dialect of the language.
This has been developed over several years after extensive consultations with Elders and community members all over the area in which the dialects are spoken. It is the result of the work of a large number of people, including two Elders who are speakers we continue to work with on the Wahlubal dialect, Uncle Poppy Harry Walker and Uncle Charles Moran.