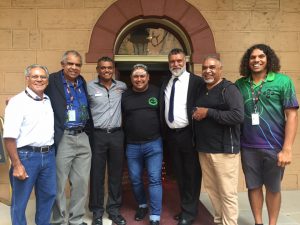 On Wednesday, 11 October 2017, Uncle Gary Williams and other Aboriginal elders gathered at the Parliament of NSW for the introduction and first reading of the Aboriginal Languages Bill 2017.
The objectives of this Bill are:
to acknowledge that Aboriginal languages are part of the culture and identity of Aboriginal people, and
to establish an Aboriginal Languages Trust governed by Aboriginal people that will facilitate and support Aboriginal language activities to reawaken, nurture and grow Aboriginal languages, and
to require the development of a strategic plan for the growth and nurturing of Aboriginal languages.
Uncle Gary Williams gave an Acknowledgment to Country, and Dr Ray Kelly and Barkindji man Murray Butcher spoke and sung in their languages.
This was a significant day for Aboriginal Languages; NSW is leading the way by committing to promote, preserve and support the survival and learning of Aboriginal languages.
Click here to read the full ABC report.
Click here to access the bill.