Stormy conditions did not prevent students from the Gathang Certificate III course gathering at Club Taree for their graduation ceremony on Wednesday 15 March. Marianne McKinnon-Kidd was the only graduate who was unfortunately unable to join the ceremony.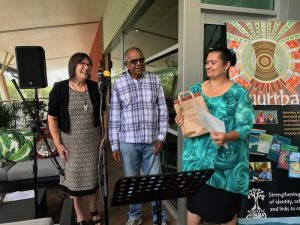 Following a Welcome to Country by Auntie Wilma Morecombe, certificates were presented by Muurrbay CEO Uncle Gary Williams.
Sharon Edgar-Jones received the Linguistic Achievement Award and Yeena Roberts was awarded a the prize for Outstanding Student.