EXPRESSIONS OF INTEREST FOR GATHANG COURSE
Muurrbay is currently taking Expressions of Interest for a Certificate III in Learning an Australian First Nation's Language. This course would be run in three locations, and would begin in 2024.
If you are interested, please read and fill out this EOI form, and return by email to julie.long@muurrbay.org.au by 31st October 2023.
Please note: this course will not be available to non-Indigenous people.
Current Classes for Gumbaynggirr
For Aboriginal community only:
(FACE-TO-FACE) Every Wednesday from 4pm at Bellwood Mission, casual community class, beginner friendly.

(ONLINE) Currently Muurrbay is running a weekly Zoom class on Wednesday afternoons with a range of teachers, including Gary Williams, Micklo Jarrett and Brother Steve Morelli.
If you would like to join in, please email: admin@muurrbay.org.au
For everyone:
Micklo Jarrett is also offering regular classes across the region:
Bellingen Youth Hub Centre: Mondays 4-6pm
If you'd like to find out more, you can visit Gumbaynggirr For All on Facebook

NSW AECG Office, 2/22 Bowra St, Nambucca Heads: Mondays 9-10am
For more information, please contact the AECG.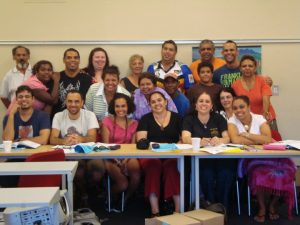 ---
Muurrbay is focusing on developing accredited Aboriginal language courses and teaching resources to empower other language communities along the central to north coasts of NSW.
---
Previous certificate courses
Cert III in Gumbaynggirr Language and Culture Maintenance (2017-2018)
Sixteen Gumbaynggirr people graduated with the Cert III in Gumbaynggirr Language and Culture Maintenance in 2018. It was delivered on-site at Muurrbay part-time over a year and half, as workers were not able to be released from their day jobs.
Cert III in Learning an Endangered Aboriginal Language -Gathang (2020, 2015/16)
Twenty six Gathang people have graduated with the Certificate III in Learning an Endangered Aboriginal Language for Gathang. Delivered most recently by Teacher-linguist Julie Long in 2020, it went online due to Covid. This course was previously run from July 2015 to December 2016 in Taree. Participants travelled from all parts of the large Gathang area – from Port Macquarie in the north, Stroud to the west and Port Stephens in the south and many places in between.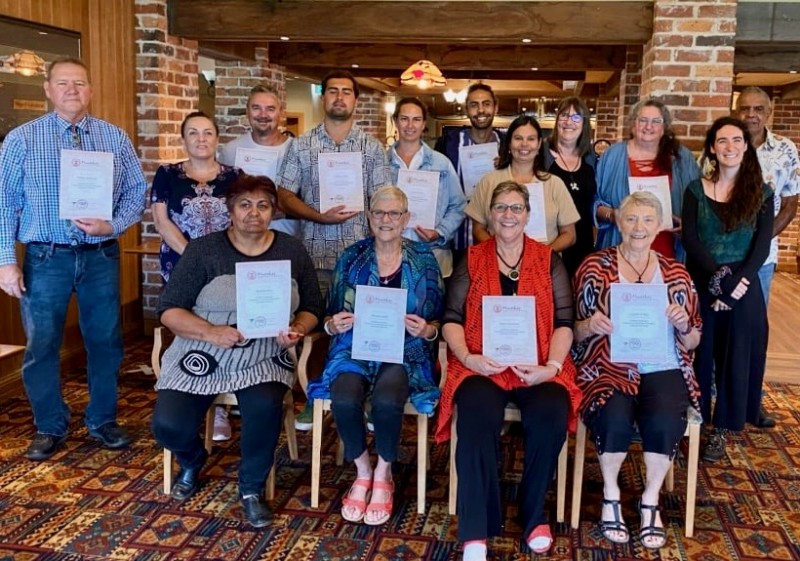 Sharon Edgar-Jones, Rhonda Radley went on to further studies of language, and taught Gathang within their communities, and most graduates have been called on to use language in varied contexts within community.