Muurrbay's publishing section publishes a variety of books that support the revitalisation of the Aboriginal Languages of New South Wales. These include dictionary – grammars that document the languages of New South Wales, particularly those of the central to north coast. Muurrbay also publishes educational resources such as children's stories, student workbooks and teaching tools like Mayalambala, a set of interactive posters and pictures.
Ordering resources: please click here to download the publications order form. If you don't have the latest version of Adobe PDF Reader, please click here to download from the Adobe website.
To make a payment via electronic transfer, cheque or money order, please email your order to admin@muurrbay.org.au and an invoice will be issued.
Dictionary and Grammars etc.
---
Wanarruwa Beginner's Guide

The Wanarruwa Beginner's Guide is a step-by-step guide to understanding Wanarruwa, a language of the Hunter River area – beginning with the absolute essentials and building up the knowledge of how the pieces of the language work together. This step-by-step language learning format lends itself to being used as a basis for sequenced language teaching and, indeed, it is hoped that this will be the case. This guide should form the basis of any Wanarruwa language learning.
After each section there is a review to consolidate the knowledge from that section. An appendix provides word lists of the words used in the guide and some tables of important grammatical groups.
The book has been co-written by Sharon Edgar-Jones, a Wonnarua descendant, and Albert Burgman to enable the Wonnarua community to more easily access language knowledge. They were assisted by the research of Dr Jim Wafer.
RRP $30.00
Pages: 158, Soft Cover, Images: 2, Size: 17 x 24cm, ISBN: 978-0-9808405-6-8
---
Dhanggati grammar and dictionary with Dhanggati stories
The homeland of Dhanggati people is the Macleay Valley in what is now known as the mid-north coast of New South Wales. The Dhanggati language was spoken by the oldest generation 'right through' up until the late 1960s. Today Dhanggati people are working to reclaim, learn and teach their language; this grammar and dictionary was written to support their efforts.

Amanda Lissarrague's research is based on the recordings of Dhanggati Elders, written historical records and the knowledge of Dhanggati people today.
The first edition of this book was published in 2007 and has been widely used in language learning in the valley since that time. This second edition has the features of the first, including the stories. The language information has
been expanded:
Identifying the speakers, where known

Including both plain language and descriptive linguistics to support language teaching and learning

Helping learners to find words by using the English to Dhanggati word list and the subject finder list

Including lists of new words, and words adapted from English

Refining both the grammatical description and dictionary entries.
RRP $50.00
Pages: 300, Hard Cover, Images: 32, Size: 18 x 25cm, ISBN

978-0-6486901-0-8
---
Bundjalung-Yugambeh Online Dictionary
The Bundjalung-Yugambeh Online Dictionary is available online at the following website http://bundjalung.dalang.com.au/plugin_wiki/index.html. Here you can search for words, download a paper version of the dictionary including colour-coded words in the various different dialects from Bundjalung to Yugambeh.
---
Yaygirr Dictionary and Grammar
For many years the Yaegl Elders have dreamt of showing respect to the country of the Lower Clarence by restoring the language that this land speaks. This grammar and dictionary has been developed with extensive community consultation to support them as they revive their language and culture and pass these on to their children.
Steve Morelli is community teacher–linguist with Muurrbay . His research is based on the language of Uncle Sandy Cameron, one of the last Yaygirr speakers, many historical records and the knowledge of other Yaegl people. It includes: a dictionary of almost 1000 words, a description of the way the language works, information on family words and maps depicting the Yaegl word.
RRP $50.00,
Pages: 254, Hard Cover, Images-maps: 3, Size: 18 x 25cm
ISBN: 978-0-9808405-0-6
---
Gumbaynggirr Bijaarr Jandaygam, Ngaawa Gugaarrigam
Gumbaynggirr Dictionary and Learner's Grammar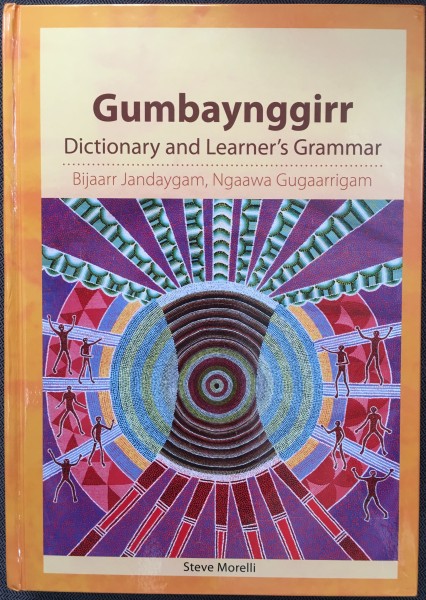 The homelands of the Gumbaynggirr lie between the Clarence and the Nambucca rivers in northern New South Wales. The Baanbay people to the West speak the same language. As with many Aboriginal Australian languages, Gumbaynggirr had fewer speakers and was in danger of extinction. All that changed in 1986 when a small group of Elders took steps to revive it, and this book is a tribute to their efforts.
Brother Steve Morelli's research is based on the recordings of Gumbaynggirr Elders, written sources and the knowledge of Gumbaynggirr people today. This book includes more than 2700 word entries, easy-to-read grammar section, a semantic fields section which groups words such as birds, emotions, insects or artefacts. A new words section lets people use Gumbaynggirr in a modern context, a section on traditional families as well as two new maps depicting the Gumbaynggirr world and several pictures to complement the word entries.
This second edition of the Gumbaynggirr dictionary and learners grammar has been expanded and improved to meet the needs of the language community
There are now 3,000 entries, with expanded definitions.

New sections describe the three Gumbaynggirr dialects, and special kinship ways of talking: respect, politeness and avoidance, based on extensive linguistic research of the Gumbaynggirr dreaming story collection

The New words section has been expanded to include many Gumbaynggirr words develop over the last decade of language revitalisation

A new Education words section lists many new words relevant to the place where Gumbaynggirr is now taught.

A new index allows the reader to more easily locate grammatical information

The grammar has been refined and updated.
RRP $70.00.
Pages: 457, Hard Cover, Images: 35, Size: 18 x 25cm, ISBN: 978-0-9808405-9-9
---
Darkinyung grammar and dictionary revitalising a language from historical sources
'This resource will be used as a tool to help us teach our people, children and future generations the importance of language and that it is key to discover our culture, identity and heritage'.
Bronwyn Chambers, Chairperson, Darkinyung Language Group
Darkinyung is an Aboriginal language of New South Wales which is now again being taught and learned. Caroline Jones (Senior Lecturer, Faculty of Education, University of Wollongong) has worked alongside the Darkinyung Language Group to develop a concise and authentic record of what is known of Darkinyung language today, based on research into historical sources mainly from the nineteenth century. This first modern documentation of Darkinyung language includes:
an explanation of the speech sounds and a suggested writing system

how the grammar works, in accessible terms with examples




a database of source words, including R. H. Mathews' notebook material

several dictionary list formats suited for different learners' needs.
RRP $40.00, 182 pages, Soft Cover, Images: 5, Size: 17.5 x 24cm, ISBN: 978-0-9775351-9-4
---

A grammar and dictionary of Gathang: The language of the Birrbay, Guringay and Warrimay
The Gathang people of NSW mid-north coast are reviving their language and culture and passing it on to their children. Gathang (or Kattang) is a general name for the language also known as Birrbay (Biripi), Guringay (Gringai) and Warrimay (Worimi), technically these are dialects of the same language. This grammar and dicitonary has been developed with extensive community consultation to provide a strong foundation for future language revival.
Amanda Lissarrague's research is based on Nils Holmer's recordings of Uncle Eddie Lobban, one of the last speakers, together with numerous written historical records and the knowledge of Gathang people today.
This dictionary has over 1000 words and suffixes with original sources, handy English finder list and word group list. It also has translations of Gathang stories told by Uncle Eddie Lobban.
RRP $50.00. Pages: 376, Hard Cover, Images: 28, Size: 18 x 25cm, ISBN: 978-0-9775351-7-0
---
A Salvage Grammar and Word List of the Language from the Hunter River & Lake Macquarie

OUT OF PRINT
This grammar and wordlist is a valuable language revitalization tool for Aboriginal people of the Hunter River and Lake Macquarie Region. It will appeal to anyone who is interested in the Aboriginal Languages of Australia. It is primarily based on the work of the Reverend Lancelot Threlkeld, who, in the first half of the nineteenth century, wrote a comprehensive account of the language taught to him by Biraban. The evidence from archival sources suggests that the language described by Threlkeld as 'The language of the Hunter River and Lake Macquarie' was spoken by people now known as Awabakal, Kuringgai, Wonnarua, and perhaps Geawegal.
Amanda Lissarrague presents a clear and succinct interpretation of the phonology and grammar of the language in terms that are accessible to both the layman and the specialist. This work also contains a wordlist and database of example sentences.
RRP $40.00. 276 pages, Soft Cover, Images: 5, Size: 17 x 25cm, ISBN: 0-9775351-0-X
Whilst the HRLM is out of print, it is available to download from the Wonnarua Nation Aboriginal Corporation's website, as a PDF file. There are three separate files and you can download these by visiting their language page here.
---
Educational and other resources
Gumbaynggirr Yuludarla Jandaygam
The Gumbaynggirr Dreaming Stories make up one of the most extensive collections of Dreaming stories on the East Coast of Australia. It brings together stories about many aspects of spiritual life, including the first three hero Ancestors, Yuludarla, Gawnggan and Birrugan, Muurrbay Bundani – The tree of life, How the sea was made and Moon Man – Giidanyba.
These stories come from throughout the Gumbaynggirr region and the book includes: Gumbaynggirr versions, word-by-word glossing and English translations, descriptions of important language features and background cultural information about Hero Ancestors, Miirlarl (special places) and Dreaming story themes. Edited by Steve Morelli, Gary Williams and Dallas Walker.
Illustrated by Shaa Smith. Copyright Muurrbay 2016
Oops! A page was omitted from this edition. To download it, click Errata-online page, print, and insert between pages 48 and 49.
RRP $50.00
---
Stories from a Bundjalung Wahlubal Speaker
"I have made this video to keep alive my people's language, culture and traditions, to care for my country and ensure our children learn and respect the ways of our ancestors."
A set of six DVDs highlighting some of Poppy Harry Walker's stories and activities, as well as an introduction to some phrases and sentences in Bundjalung.
Copyright 2011 Harry Mundine Walker.
Video recording: Charlie Taikakara.
Production and Editing: Peter Geddes.
RRP: $50.00, 6 DVDs.
---
All Yugambeh – Bundjalung Dictionary with grammar, texts etc
All files in Word unless otherwise stated.
Contains: Phonology and grammar; Complete dictionary-all dialects; Texts; Coastal Bundjalung; Western Bundjalung; Yugambeh and neighbouring dialects; Baygalnah Jagun; An introduction to the Yugambeh-Bundjalung language and its dialects (PDF).
RRP: $25.00
ISBN 978-0-9807077-3-1
Compiled by Margaret Sharpe. Copyright 2013. Copied and distributed by Muurrbay with permission of the compiler.
---
A handbook of Aboriginal languages of New South Wales and the Australian Capital Territory
New South Wales was the first part of Australia to be colonised, so the written records of the state's Indigenous languages go back more than 200 years.
The handbook is a guide to these Aboriginal languages, with illustrative vocabularies, and is divided into two parts. Part One is a survey of the Indigenous languages of NSW and the ACT, giving information about dialects, locations (including maps) and resources available for language revitalisation. Part Two provides word-lists in practical spelling for 42 distinct language varieties. There is also useful information on contact languages, sign languages and kinship classification and placenames.
The handbook is a valuable reference and educational resource, useful to Aboriginal people who want to revitalise their language.
Copyright Muurrbay 2008. Authors: Jim Wafer and Amanda Lissarrague,.
RRP $135 830 pages, Hard Cover, 18 maps, Size: 26.5 x 20cm, ISBN: 978-0-9775351-8-7
---
Gathang Djuyal: Gathang Stories
Language learners will enjoy listening to these Gathang stories. The animations reinforce the stories, and the written English translation ensures that everyone can follow the message. These stories are suitable for language learners of all ages, the animation will be particularly appealing to a younger audience.
This DVD is dedicated to the memory of Uncle Jim Ridgeway, a passionate advocate of Gathang culture and language.
RRP $25.00.
This DVD is made up of five stories:
A Story about The Djagiri

How Taree got its name

The Whale and the Shark

A Story about Coopalcurripa

The Porcupine
---
Barriyala: Let's Work – Gumbaynggirr Language Student Workbooks 1, 2 and 3
Barriyala is a set of three student workbooks designed to support Gumbaynggirr language learning in primary schools. They have been designed to support Gumbaynggirr language learning in primary schools. There is a separate workbook for each primary school stage, each workbook building on students' prior learning. The workbooks, for use with Junga-Ngarraangala Gumbaynggirr, the Gumbaynggirr Primary Language Program are not intended to be stand alone workbooks.
Each workbook provides a range of activities that will reinforce language learnt in the classroom. The activites are divided into eight different themes based on aspects of Gumbaynggirr culture, with associated language tasks. Julie Long, with the support of Muurrbay staff, presents a series of interesting and culturally appropriate language activities that draw on her wealth of classroom experience.
RRP $20.00 each. Workbook one is out of print, but can be supplied as a Word document for adaptation to other Aboriginal languages. – OUT OF PRINT
Workbook 1: 90 pages, soft cover, 200 images, Size: 20 x 29cm ISBN: 978-0-9775351-2-5
Workbook 2: 132 pages, soft cover, 150 images, Size: 20 x 29cm, ISBN: 978-0-9775351-3-2
Workbook 3: 136 pages, soft cover, 50 images, size: 20 x 29cm ISBN: 978-0-9775351-4-9
---
Bamay Possum's Party
Out of print – Currently being updated
Bamay Possum's Party is an educational musical that little children find entertaining at home or in schools. The CD has words in the Gumbaynggirr language (from Northern NSW).
The story was created as teaching material for pre-schoolers and infants, especially for the Koori children, of the Mid North Coast of NSW. In this way some of our language will be passed on to our children. The culture, too, is reinforced – Koori children often stay with extended family members other than parents.
An illustrated book accompanies this CD. Teachers and children will find this enjoyable.
Click here to listen to an exerpt of the CD (MP3)
RRP $15.00 Pages: 20;
Format: Soft Cover
Size: 14 x 19cm
ISBN: 0-646-19283-3
---
Dulaybam Dunggiirr Grey-faced Wallaby and Koala – A Gumbaynggirr Dreaming Story
Long ago in the Dreamtime, the Greyfaced Wallaby had no tail and the Koala was always thirsty. How these animals helped each other is the subject of this traditional Gumbaynggirr children's story.
Philip Shannon was a Gumbaynggirr man from the Nymboida area of Gumbaynggirr country in coastal New South Wales, Australia. This is one of the stories that Philip Shannon told researcher Gerhardt Laves in 1929.
The storybook is brought to life with Dallas Walker, Michael Jarrett, Tyson Ferguson and Sue Tomkins as the characters.
RRP $25.00 book and CD. 40 pages, Soft Cover, 12 images, 20 x 20cm
ISBN: 1-4251-0448-7
---
Nganyundiya Miimingundiya Jagunda – Into My Mother's Country
This is the story of Gumbaynggirr Elder Aunty Jessie Williams who was born on the North Coast of NSW in 1924, during the time of the Stolen Generation.
Into My Mother's Country – gives an insight into Aboriginal ways of healing as Aunty Jessie was given the mantle of Healer by her uncle, Lambert Whaddy, who was a Healer himself.
A devout Catholic, Aunty Jessie says that Uncle Lambert Whaddy believed the Catholic religion to be very like Aboriginal spiritual ways.
RRP $25.00
Pages: 150
Format: Soft Cover
Images: 25
Size: 14.5 x 20.5cm
ISBN: 0-646-45601-6
---
Gumbaynggirr Song Book and CD
Out of Print – Currently being updated
---
Dhanggati Barrunbatayi Wiriiyn – Dhanggati Dreaming Stories – Volumes 1 and 2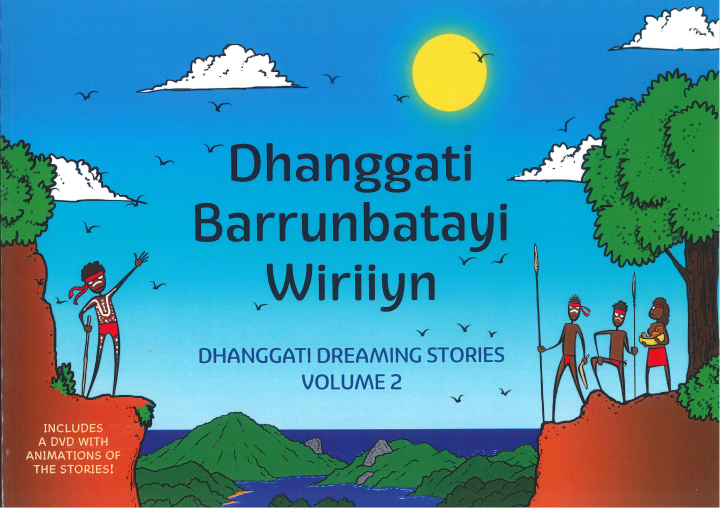 The two volumes of Dhanggati Dreaming stories follow the path of the Great Rainbow Serpent across Dhanggati country on the mid-north coast of New south Wales.
We are introduced to the great Ancestral Beings who, with Dhanggati ancestors, created and shaped the places and creatures that are the heart of Dhanggati life and culture today
Each volume 52 pages | Soft Cover |full colour illustration |
ISBN 978-0-6482446-0-8 / 978-0-6482446-1-5
Each volume includes DVD animation of stories
RRP $40 (per set of 2)
Each volume is available in colouring book form
RRP $15 (per set of 2)
---
Publications Enquiry
[caldera_form id="CF5d2e8ffd89fcf"]