Who, What, Where?
Language learning resource – as seen at Puliima 2023!
About the resource
Who, What, Where? is a fun language learning tool for everyone to practise and teach Indigenous languages. This resource has been produced by both Muurrbay Aboriginal Language and Culture Cooperative and Living Languages.
Who, What, Where? uses picture cards and posters as prompts, so you don't need to use English at all! These cards and posters are only the beginning, you can build on this resource by making your own with more pictures that show your people, country and interests.
Inspired by The International Decade of Indigenous Languages (IDIL), highlighting the urgent need to support all Indigenous people in their efforts to revitalise and maintain their languages.
The vibrant artworks you see in this resource have been created by Dunghutti man, Frank Mcleod.
(Scroll down to Meet the Artist below for more on Frank's work)
What's included in the resource pack?
52 colour-coded cards, and 2 posters.

Posters are available to download in two sizes below- A1 (large poster) or A3 (small poster).
You can get these printed and use them for teaching and learning.
Download here!
Meet the Artist:
Frank Mcleod is a self-taught Indigenous contemporary artist from the Dunghutti tribe – Kempsey, North coast of NSW.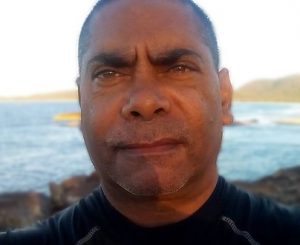 Frank has worked as an artist and illustrator for most of his life. He is known for his work on the youth magazine Streetwize Comics which focused on social issues affecting young people, both Indigenous and non-Indigenous. He was also the head animator for the Dreaming series screened on ABC and NITV.
Frank loves to paint his Aboriginal art, based mostly from local animals that surround the Dunghutti Macleay coastline and bush.
Frank's main form of art now is digital work, doing copies of his original paintings and turning them into digital artworks.
If you'd like to contact Frank, you can email him: mcleody2005@hotmail.com